Your Insulation Service in Columbia MO
Insulating your home properly means big savings and added comfort for you. But how do you identify the best places in your home to add insulation? You must first calculate your current insulation levels in several different areas, and then identify the spots that have the greatest heat loss potential. Starting with an energy audit gives you the information you need to make an educated buying decision. Auditors are trained to identify heat loss areas and will consult with you on which areas in your home need added insulation. Many companies like Nemow Insulation and EnergyLink even complete the insulation rebate paperwork for you for local utilities including City of Columbia Water & Light, Boone Electric Cooperative, and Ameren Missouri.
Home insulation refers to the materials that are used to prevent or slow down the transfer of energy from one area to another. During the warm months, ceiling insulation reduces the transfer of heat from a hot attic to the living spaces below. During the winter, it prevents your heated air from escaping to the attic. Insulation can also reduce moisture and sound penetrations. When you have a well insulated home, you can feel the comfort and see the savings on your utility bills.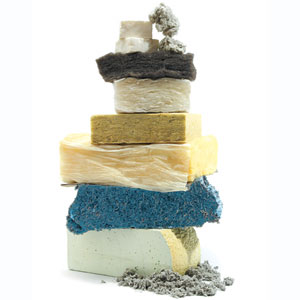 Attic & Wall Cellulose Insulation
"FIBER-LITE"
is a versatile wood fiber cellulose insulation made of natural, organic wood fibers treated with fire-retardant chemicals. It contains no ammonia, asbestos, glass fibers nor formaldehyde, making it "Nature's Own Insulation." "FIBER-LITE" is designed for attic and wall cavity applications in new construction as well as in existing homes. It forms a blanket of interlocking fibers in the attic and creates a monolithic seal in the sidewalls eliminating air infiltration and providing maximum thermal performance. "FIBER-LITE" in the attic and walls results in significant savings in heating and cooling, while providing a comfortable, quite and safe environment in your home.



"FIBER-LITE" STABLIZED

is manufactured with a dry adhesive to enhance the bonding properties of "FIBER-LITE" for spray-applied applications. The high-track adhesive is activated with atomized water, forming a stabilized mache to prevent settling of the insulation.



R-VALUE

– The R-Value of "FIBER-LITE" provides excellent air-blocking characteristics. The customer fir that "FIBER-LITE" provides during wall cavity spray fills all voids and cracks, forming a monolithic seal with the building. In contrast, fiberglass batts are manufactured to standard dimensions, making it virtually impossible to obtain a perfect fit around plumbing, electrical wires and fixtures while maintaining a tight seal against both interior and exterior wall sheathing. Also, if fiberglass batts are compressed in a wall cavity, they lose R-Value. The same benefit is true in the attic area. For example, as the outside temperature falls in an attic, the R-Value of "FIBER-LITE" will remain constant over lower temperature ranges, while the R-Value of the fiberglass insulation is reduced as attic temperatures decline.



AIR INFILTRATION

– Air infiltration is nearly as important as R-Value in the thermal performance of a building. Fiberglass behaves similar to an air filter. Fiberglass functions to slow the passage of cold or hot air from the one side of a wall to the other. In contrast, cellulose creates a true thermal break, making the transmission of air from one side of a wall to another virually impossible. Air infiltration can also occur when fiberglass batts are not properly insulated with a wall cavity. Numerous studies have shown that a 4% gap in a 3.5" sidewall will reduce thermal resistance by a minimum of 35%. These expose areas allow air to infiltrate you home, seriously impairing the effective R-Value of the insulation. "FIBER-LITE" will eliminate these problem areas by completely sealing the entire wall cavity. Comparing the R-Value of insulation is only part of the story. Air infiltration tells the rest of the story.



PERFORMANCE

: Spray applied "FIBER-LITE" Cellulose Insulation delivers maximum thermal and acoustical performance by eliminating air infiltration and reducing sound transmission. Independent tests reported an ENERGY DESIGN UPDATE (EDU) has shown houses completely insulated with cellulose outperform conventional fiberglass batted houses by as much as 33% or more in efficiency. EDU concluded, "… houses with walls insulated with cellulose were significantly tighter than insulated with fiberglass." Unlike batts, "FIBER-LITE" forms a continuous layer, leaving a carpet-like texture in the wall cavity and attic area. The results are significant savings in heating and cooling costs.



FUNGUS RESISTANCE

: "FIBER-LITE" is manufactured with two borate fire retardants (Board Defense and Zone Defense). Board Defense (Reg. No. 44757-20) is registered with the EPA as a fungicide and creates an environment within the insulation material unsuitable for the germination of fungus (mold and mildew).



PEST RESISTANCE

: Zone Defense (Reg. No. 44757-3) is registered with the EPA as a pesticide and protects the insulation material from targeted insect infestation.



SOUND CONTROL

: The spray-applied blanket created by "FIBER-LITE" provides a sound barrier wall by sealing off potential sound transmission points in the wall. Its high density fibers naturally absorb noise. It is highly recommended for interior walls such as bathrooms, kitchens, laundry rooms and between floors in 2-story/basement homes.



THERMAL EFFICIENCY

: The superior thermal rating of "FIBER-LITE" is derived from the air entrapment between the fiber strands. The application technique restricts the transfer of heat, providing a more temperate home environment, while increasing the efficiency of your heating and cooling system.



ENVIRONMENTAL IMPACT

: "FIBER-LITE" is a non-toxic, natural wood fiber insulation products made from 100% recycled paper. It does not contain ammonia, formaldehyde, asbestos or man-made fibers. "FIBER-LITE" requires very little energy in its manufacturing process. Conversely, man-made mineral fiber utilizes significantly less recycled material and consumes large quantities of energy in its manufacture.



PRODUCT WARRANTY

: FTI warrants that "FIBER-LITE" will not deteriorate and will maintain its ability to prevent fungus germination, insect infestation protection and offer excellent thermal performance under normal and proper use for the lifetime of the building structure. Its installation will be free from defects if installed according to instructions.
Why Cellulose Insulation for attics?
While many types of insulation exist, many now recommend cellulose blown in insulation (H2) for attics, which is also the Energy Star recommended material. Cellulose outperforms fiberglass insulation in energy efficiency and achieves a higher per-inch R-value. It is a more environmentally friendly product because it is made of 80% locally recycled materials and takes 10 times less energy to manufacture. Cellulose also acts as an air barrier vs. fiberglass which acts as an air filter. The product we use is fire retardant, resistant to moisture damage, and acts as an effective sound barrier.
In addition to attic insulation: